Your choices at
16 years old
So what are your choices at 16 years old?
Following GCSEs there are a lot of options to think about before making the right choice for you. You're expected to stay in education or in some recognised form of employment with training until you're 18 but this doesn't have to be at school.
Find out more about all of your options by viewing the YouTube video and refer to the handy guide below.
Click the guide to view a full-sized version
Youth Card - app for 11-25 year olds
---
WHAT IS YOUTH CARD?

Youth Card is a free mobile app that provides a one-stop shop for 11-25-year-olds for self-led discovery of educational, career and personal development opportunities in a safe environment.

Youth Card is uniquely placed to help your students by offering:
Free access to UK-wide work experience placements and workshops with leading employers, including: Spotify, Bentley Motors, bp, Google, NHS, Virgin Atlantic, The Financial Times, Santander and the BBC.
Free access to UK-wide financial and enterprise programmes.
Free access to a UK-wide network of 7,000 youth organisations.
Free access to inspiring podcasts, broadcasts and short films by heads of industry and high-profile speakers like:
- Nick Ross (TV broadcaster) - Rich Waterworth (GM of TikTok) - Shai Weiss (CEO of Virgin Atlantic Airways) - Gareth Southgate (England football manager – men's team) - Roger Federer (professional tennis player) - Dame Kelly Holmes (former Olympic athlete)
Free access to a wide range of youth-friendly discounted services in the UK and Europe.
---
Post16 Bursaries available
---
What a bursary is for
A bursary is money that you, or your education or training provider, can use to pay for things like:
clothing, books and other equipment for your course

transport and lunch on days you study or train
If you're aged 16 to 19
You could get a bursary to help with education-related costs if you:
study at a publicly funded school or college in England - not a university

are on a training course, including unpaid work experience
A publicly funded school is one that does not charge you for attending it.
What you'll get
There are 2 types of 16 to 19 bursary:
a bursary for students in vulnerable groups
a discretionary bursary
Bursary for students in vulnerable groups
You could get a bursary worth up to £1,200, depending on your circumstances and benefits.
Discretionary bursary
You could get a discretionary bursary if you need financial help but do not qualify for a bursary for students in vulnerable groups. Your education or training provider decides how much you get and what it's used for
How can I find further details?
Colleges and schools can provide advice on the process to apply for funding.
---
Student guide to Post16 qualification results 2021
---
We understand how unsettling the last few months may have been for you, since schools, colleges and other providers were closed to many and exams were cancelled.
This guide should help you understand how results have been awarded this year and where to find more information.
---
Your Post 16 Choices and opportunities available in Plymouth
---
What's your next move here in Plymouth? Compare your options after GCSE. Click here or on the image below to view the guide in full.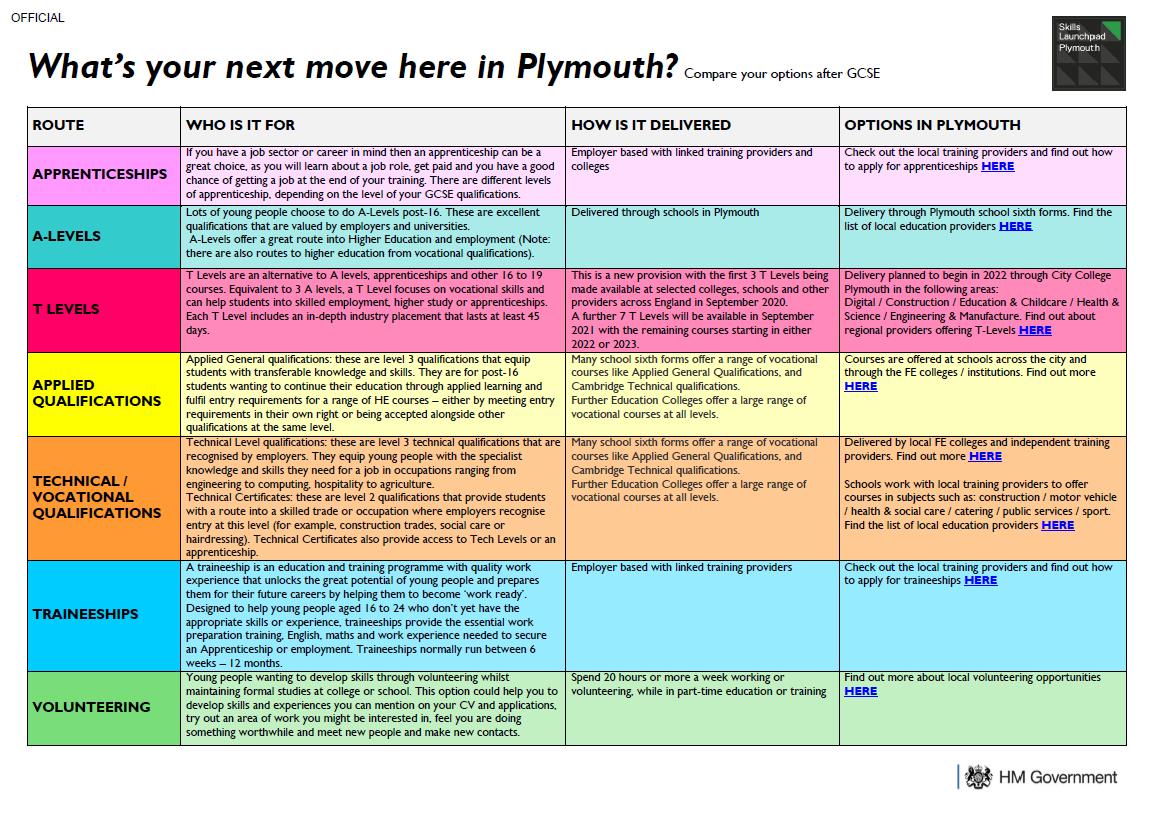 ---
Useful Parents' and Carers' Information Pack
---
It has been a challenging time for schools, students, you as parents and carers, and the school community, and we want to support you in helping your child to prepare for their next steps. View the Parents' and Carers' Information Pack here Help for parents and carers with apprenticeship here.
---
Skills Launchpad Plymouth: Apprenticeship Vacancy Bulletin - August 2021
---
We have collated the current apprenticeship opportunities available in Plymouth. Take a look at our Bulletin to find out more about the local employers recruiting, the training providers involved and how to apply for these exciting apprenticeships. View the Apprenticeship Bulletin* *Vacancies were live at the point of publication
---
---