Your choices at
16 years old
So what are your choices at 16 years old?
Following GCSEs there are a lot of options to think about before making the right choice for you. You're expected to stay in education or in some recognised form of employment with training until you're 18 but this doesn't have to be at school.
Find out more about all of your options by viewing the YouTube video and refer to the handy guide below.
Click the guide to view a full-sized version
Plymouth's Apprenticeship Opportunities Bulletin for School Leavers – August 2020
---
To make this easier for you, we have collated the current apprenticeship opportunities available in Plymouth. Take a look at our Bulletin to find out more about the local employers recruiting, the training providers involved and how to apply for these exciting apprenticeships. View the Apprenticeship Vacancy Bulletin
---
Post16 Bursaries available
---
What a bursary is for
A bursary is money that you, or your education or training provider, can use to pay for things like:
clothing, books and other equipment for your course

transport and lunch on days you study or train
If you're aged 16 to 19
You could get a bursary to help with education-related costs if you:
study at a publicly funded school or college in England - not a university

are on a training course, including unpaid work experience
A publicly funded school is one that does not charge you for attending it.
What you'll get
There are 2 types of 16 to 19 bursary:
a bursary for students in vulnerable groups
a discretionary bursary
Bursary for students in vulnerable groups
You could get a bursary worth up to £1,200, depending on your circumstances and benefits.
Discretionary bursary
You could get a discretionary bursary if you need financial help but do not qualify for a bursary for students in vulnerable groups. Your education or training provider decides how much you get and what it's used for
How can I find further details?
Colleges and schools can provide advice on the process to apply for funding.
---
Your Post 16 Choices and opportunities available in Plymouth
---
What's your next move here in Plymouth? Compare your options after GCSE. Click here or on the image below to view the guide in full.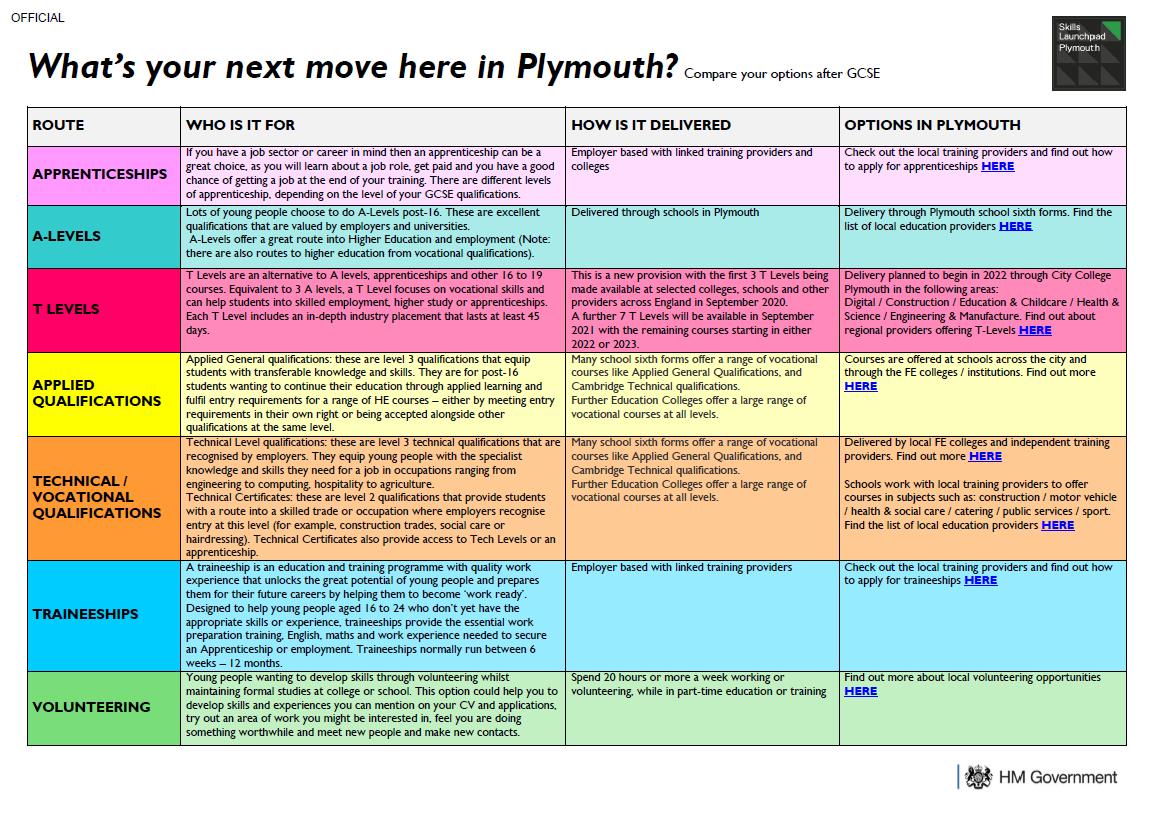 ---
Useful Parents' and Carers' Information Pack
---
It has been a challenging time for schools, students, you as parents and carers, and the school community, and we want to support you in helping your child to prepare for their next steps. View the Parents' and Carers' Information Pack here
---
---